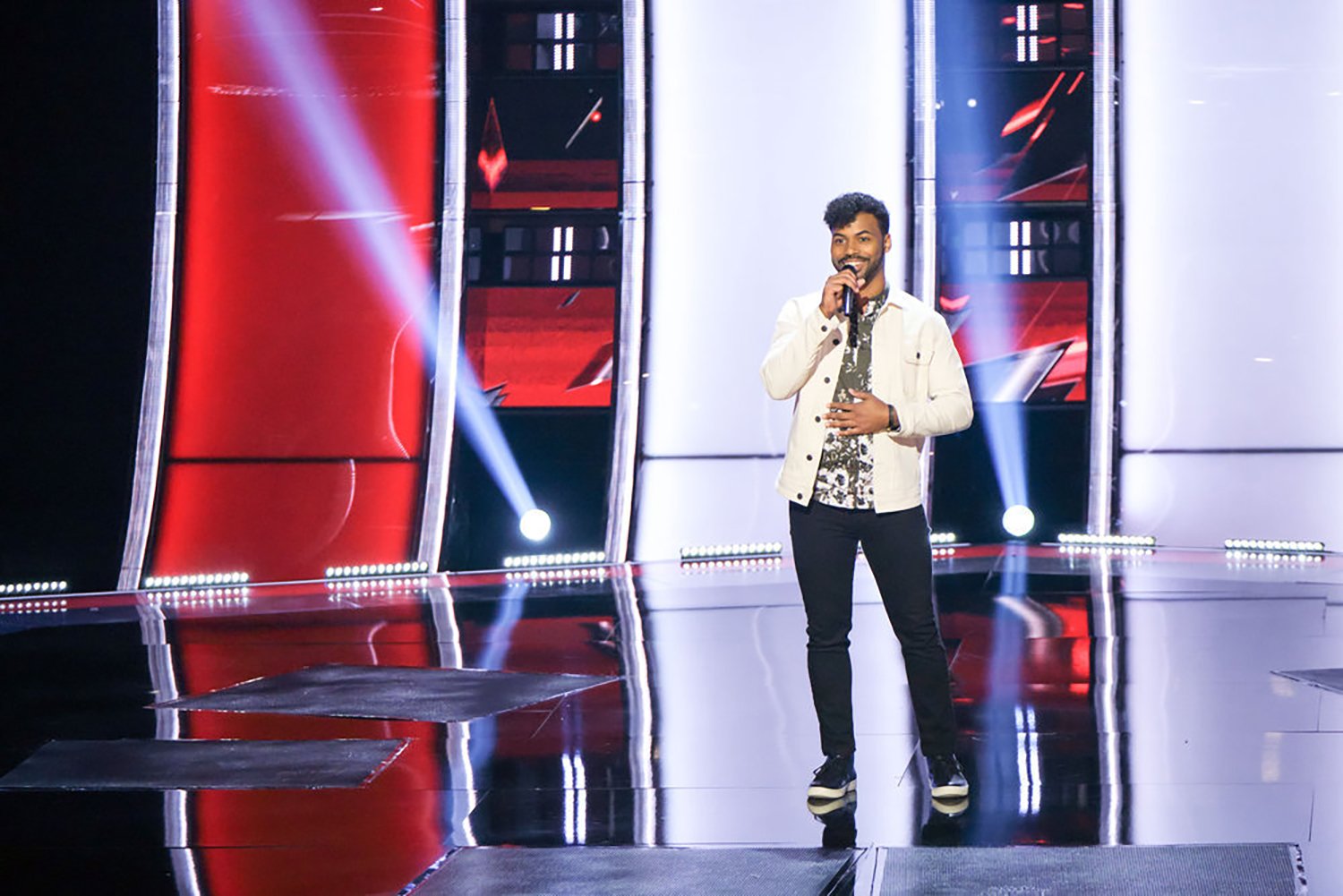 Devix on 'The Voice' Season 22 Episode 2 | Tina Thorpe/NBC
Team Legend
Peyton Aldridge, a basketball coach from Mississippi, said he's ready to "put the ball down and pick up a microphone." He sang "Can't You See" by The Marshall Tucker Band, showing off his raspy voice and country-rock edge. Gwen and John turned, blocking Blake on the way. John complimented his soulful voice. Peyton offered to
The Voice Season 22 premiere continued on Sept. 20 with another two hours of Blind Auditions. Last night's episode ended on a cliffhanger as coaches Blake Shelton, Gwen Stefani, and Camila Cabello fought over Kate Kalvach, who performed a gentle rendition of Kacey Musgraves' "Rainbow." Proving himself to be the G.O.A.T., (with an actual goat, no less) Blake landed Kate as his first team member. Elsewhere in the evening, John Legend and Blake experienced the power of the block. Here's a recap of The Voice Season 22 Episode 2.
[Spoiler alert: The following story contains spoilers for The Voice Season 22 Episode 2.]
Devix on 'The Voice' Season 22 Episode 2 | Tina Thorpe/NBC
Team Legend
Peyton Aldridge, a basketball coach from Mississippi, said he's ready to "put the ball down and pick up a microphone." He sang "Can't You See" by The Marshall Tucker Band, showing off his raspy voice and country-rock edge. Gwen and John turned, blocking Blake on the way. John complimented his soulful voice. Peyton offered to sing "All of Me," doing an impromptu duet with John. Gwen said she was interested in helping listeners hear Peyton's personality. Peyton chose to join Team Legend, giving John his only singer of the night.
Team Legend so far: Omar Cardona, Emma Brooke, David Andrew, Peyton Aldridge
Team Gwen
ummm i think @witrado_lyssa may have just sang my song better than me ? welcome to #TeamGwen !! ? gx #TheVoice #VoicePremiere #VoiceBlinds pic.twitter.com/dRR0XqduO2
— Gwen Stefani (@gwenstefani) September 21, 2022
Alyssa Witrado, a 19-year-old singer from California, used music to help her through her parents' divorce. She sang Gwen's "Don't Speak" because she related to the song. Gwen turned immediately, thrilled to hear someone doing her music. Camila turned at the same time. The "Havana" singer complimented Alyssa's taste in music, although she didn't seem confident she'd get picked. Meanwhile, Gwen said Alyssa made the song her own and said she was her "dream" artist. Unsurprisingly, Alyssa joined Team Gwen.
Michigan native Sadie Bass grew up loving music, but a case of stage fright kept her from taking to a stage. Now, she's ready to face her fears on one of the biggest stages of them all. Sadie chose to sing Keith Urban's "Stupid Boy," feeling like she could relate to its story. Thankfully, she made it through without passing out and earned chair turns from Gwen and Blake. Blake commended Sadie's bravery, and though Camila didn't turn, she offered to help Sadie with any other stage fright issues. Sadie chose Gwen because it would "go against the grain."
Team Gwen so far: Ian Harrison, Jay Allen, Alyssa Witrado, Sadie Bass
Team Camila
Reina Ley is the youngest singer this season so far at 13 years old. The Arizona native is a mariachi singer who has been performing in front of others since she was a child. She auditioned with "Cielito Lindo" by André Rieu, prompting Camila and Gwen to turn their chairs and dance. Camila complimented Reina for singing …read more
Source:: Showbiz Cheat Sheet.