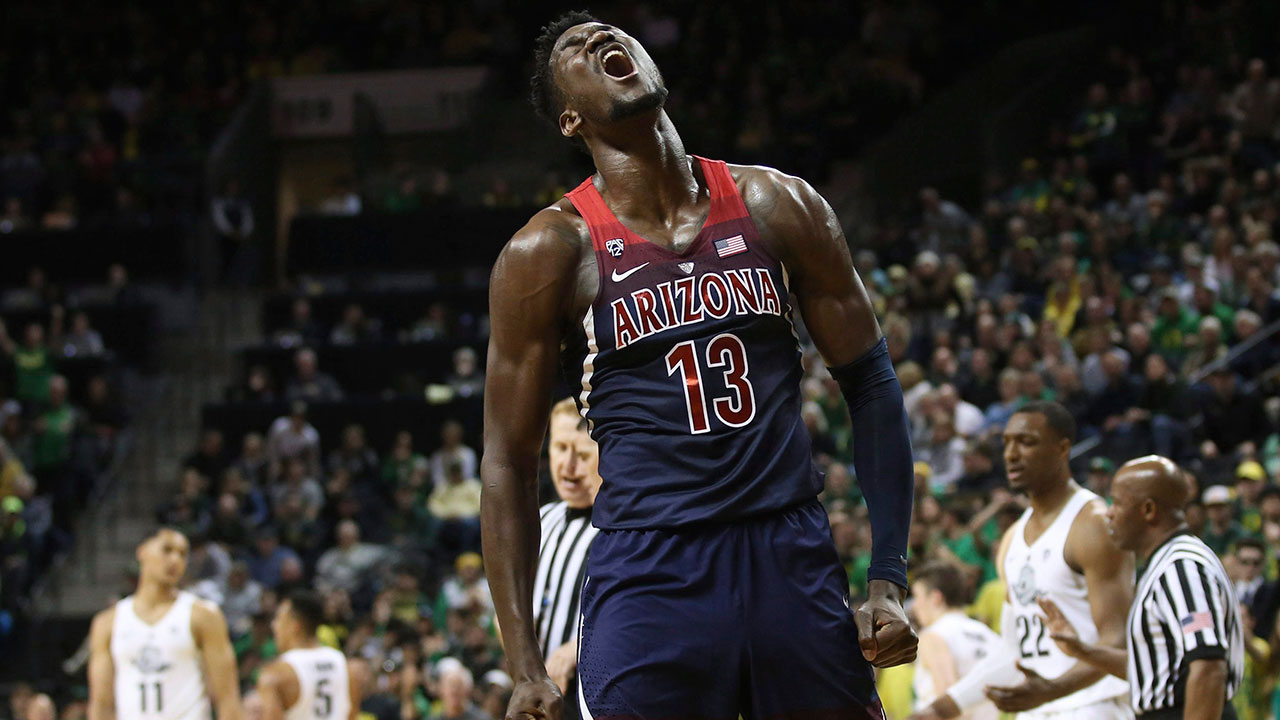 There are many reasons to watch the NCAA Division I men's basketball tournament.
If you're a college hoops fan there's nothing better in the world, if you're in a pool you'll at least want to see how some of your picks are faring, and if you're a sports fan who loves rooting for the underdog that's what this event's all about.
The madness affects us all in different ways.
For NBA-heads, however, there's one specific bug they'll usually catch when tuning in: prospect fever.
The tournament has always been fertile ground for NBA draft junkies to find who's next, and after a couple years of relative disappointment — e.g. the projected No. 1 picks not competing in the big dance — we got a tournament chock-full of bursting NBA potential.
Here's a quick glance at the 10 most intriguing NBA prospects to keep your eye on as you take in the games.
Deandre Ayton – No. 4 Arizona
Arizona's DeAndre Ayton (Chris Pietsch/AP)
The projected No. 1-overall pick, Ayton has been hailed as the generational big man for the modern game. Standing seven-feet tall, but with a silky stroke from outside and the raw athleticism needed to defend the pick-and-roll, he has all the tools needed to excel at the next level.
The concern with Ayton, outside of allegations he took bribes from Arizona amid an FBI investigation of the school's recruiting practices, is his motor.
Entering his senior year of high school he was the No. 1 prospect but saw his status drop as complacency of his status set in, allowing other players on this list to take his spot. He's been so productive this season (his 20.3 points and 11.1 rebounds per game earned him Pac-12 Player of the Year honours) that it hasn't mattered much, but his occasional lapses in intensity can be seen on the defensive end where he can be great but often chooses not to be.
Regardless, as the projected No. 1 pick in this June's draft, Ayton will be appointment viewing.
Marvin Bagley III – No. 2 Duke
Duke's Marvin Bagley III (Ben McKeown/AP)
Bagley reclassified a year earlier to get himself into the 2017 class, becoming the top recruit this season. He didn't disappoint, earning ACC Player of the Year honours with a real shot at being named the national player of the year.
In 29 games played with Duke this season, Bagley averaged 21.1 points and 11.5 rebounds on 60.5 per cent shooting. Like many of the top NBA prospects this year, Bagley is a new-age power forward with athleticism, lateral quickness and shooting ability.
Given Duke's seed, there's a good chance the Blue Devils go on a deep run. If that happens, and Bagley performs the way he has all season, there's a chance he could take a run at Ayton's No. 1-overall draft spot.
Mohamed Bamba – No. 10 Texas
Texas forward Mohamed Bamba (Sue Ogrocki/AP)
Whereas a lot of the big men on this list would prefer to be listed at the four, Bamba is a centre, pure and simple.
Although his offensive game is still developing, Bamba …read more
Source:: Sportsnet.ca
(Visited 4 times, 1 visits today)