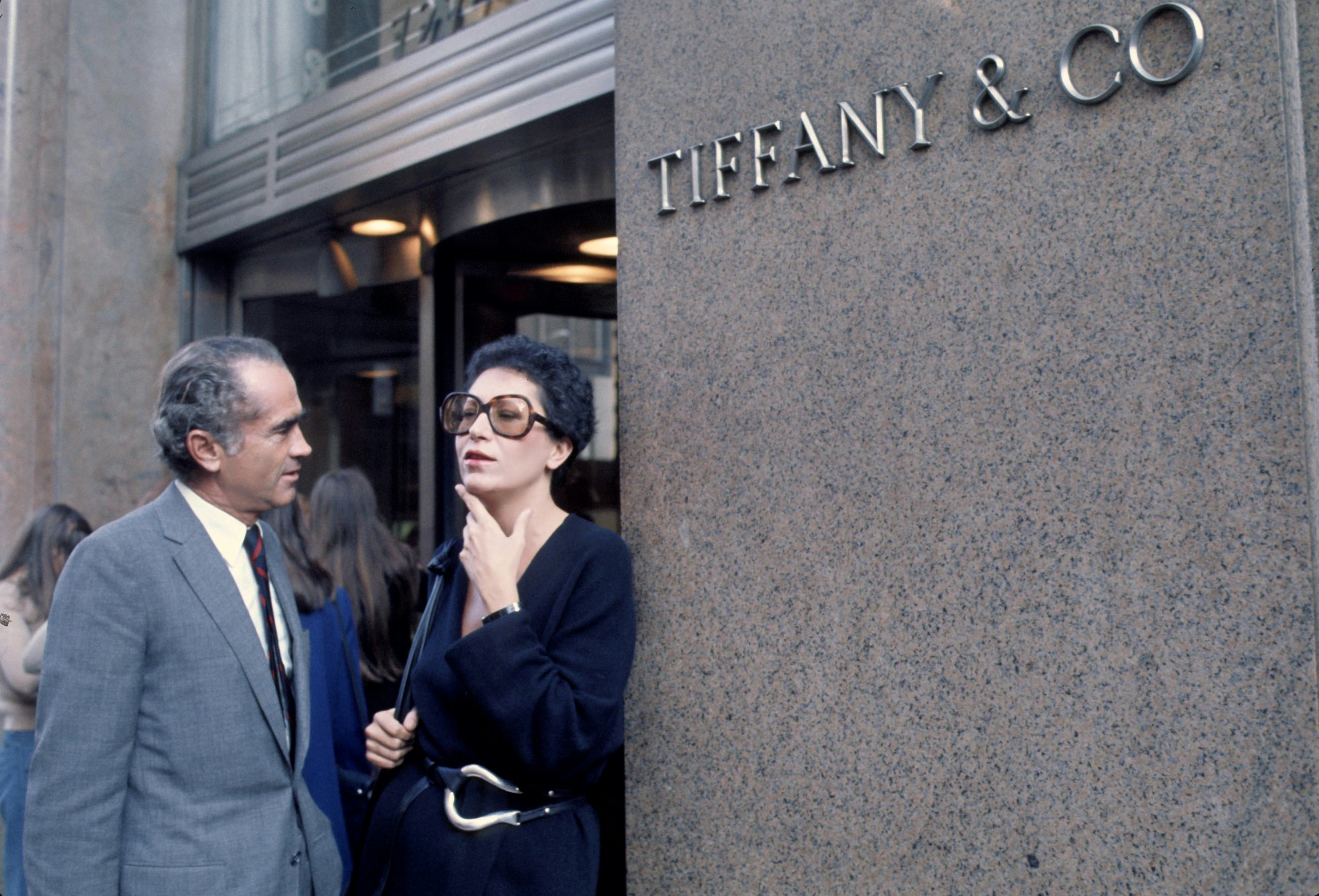 Elsa Peretti is one of the most iconic jewelry designers in the world. Perhaps most famous for her long relationship with Tiffany & Co., she was well-known for her clean and polished pieces including the bone cuff, one of her most sought after creations. Her pieces were inspired by everything from human bones (with cuffs that mimic the structure of a woman's wrist) to nature (her classic lima bean shapes). Her designs are beloved by people of all ages, including celebrities like Sarah Jessica Parker, Rihanna, and of course, Duchess Kate Middleton.
Born in Florence, Italy, Peretti was a model-turned-designer who rose to instant fame in the 1970s with her artistic jewelry creations. She lived a fun and unapologetic life that attracted friends like Andy Warhol, Cher, and Helmut Newton. After a storied career, she died in her sleep on March 18, 2021, at the age of 80.
To celebrate the late artist's life, Marion Fasel, jewelry historian and founder of The Adventurine, will be hosting a virtual talk at New York City's 92Y on Wed., April 7 at 7pm EST. with tickets available for $10 on 92Y.
In anticipation of that talk, it's time to take a trip down memory lane. From Liza Minelli to Gal Godot, scroll on for some of the best Elsa Peretti jewelry celebrity fashion moments to date.
2020: Gal Godot
In promotion of Wonder Woman 1984, Gal Godot wore the Elsa Peretti bone cuffs, which were reminiscent of the cuffs worn by the original Wonder Woman comic book superhero.
2019: Taylor Swift
During the summer of 2019, Taylor Swift took to Instagram wearing a long yellow gold diamonds-by-the-yard necklace designed by Peretti.
2018: Rihanna
For the 2018 Grammy Awards after party, Rihanna accessorized with several gold jewelry pieces, including the iconic Elsa Peretti bone cuff.
2016: Margot Robbie
Robbie made quite the statement at the Met Ball in 2016, choosing to wear not one, but two large gold Elsa Peretti bone cuffs with her strapless white gown.
2014: Angelina Jolie
For the 2014 BAFTA Awards, Jolie chose a pair of subtle diamond stud earrings that had been designed by Elsa Peretti.
2012: Kate Middleton
On Kate Middleton's right wrist during St. Patrick's Day celebrations in 2012 was the dainty diamonds by the yard bracelet, designed by Peretti for Tiffany & Co. Back in 2008, she was also seen at the Boodles Boxing Ball in Peretti's silver mesh earrings.
Both of Middleton's go-to pieces have meaning. The yard bracelet was designed to feel effortless and breezy, easily styled with a classic white T-shirt, if the wearer so chooses. The earrings, by contrast, were intended to symbolize a sort of armor. They were created by Peretti in collaboration with Samuel Beizer, the founding Chairman of the FIT jewelry design department, using a special technique.
2012: Emma Stone
For the 2012 MTV Movie Awards, Emma Stone sported a giant black jade cabochon ring from Tiffany & Co.'s Elsa Peretti Collection. She had previously worn the same style in green jade …read more
Source:: Bustle
(Visited 3 times, 1 visits today)

GRAMMYS 2021: Watch Doja Cat's ELECTRIFYING Say So Performance

Doja Cat took fans to the future with an electrifying performance of her smash single 'Say So' during the GRAMMYs, which aired Sunday on CBS. For the 25-year-old singer's debut appearance at the GRAMMYs, she delivered impressive vocals and fierce choreography. ET spoke with Doja on the red carpet ahead of music's biggest night, where she explained what it felt like to attend her first-ever GRAMMY Awards.