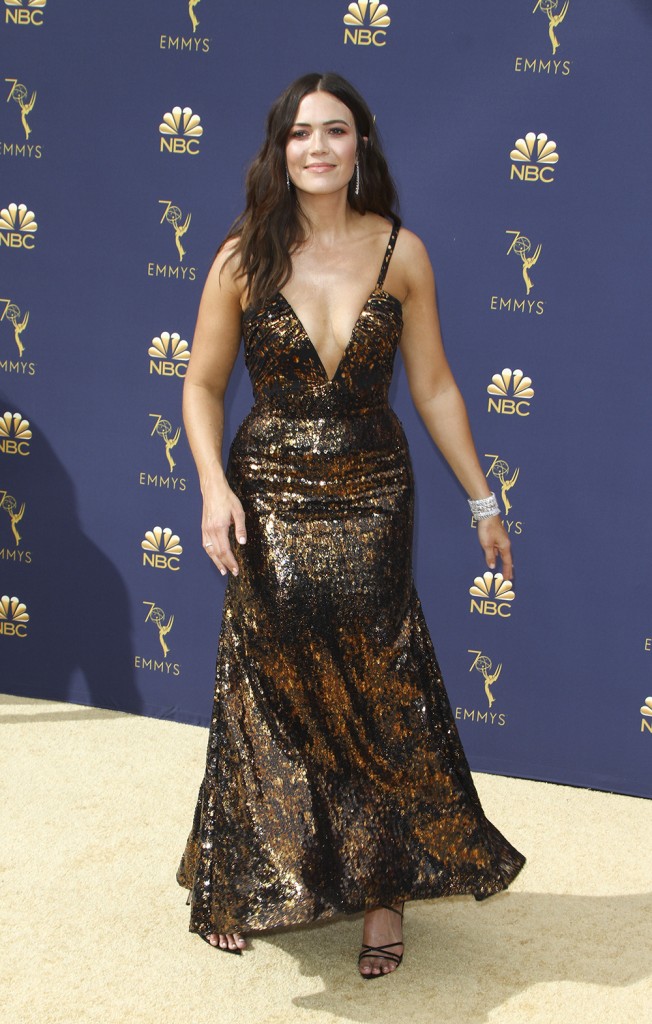 Embed from Getty Images
This is Us is back for its third season, and I couldn't be happier. We've spent time looking back at the origins of Jack and Rebecca's relationship, made up of false starts, awkward moments and a returning high school sweetheart. We also got to see Mandy Moore and Milo Ventimiglia in their 70s attire. Milo was sans mustache and Mandy looked radiant in a floral print dress with long wavy locks.
Mandy, along with her The is US co-stars Chrissy Metz (Kate) and Susan Kelechi Watson (Beth) are on the cover of the November issue of Glamour magazine. In the accompanying interview, The 34-year-old actress talked about the show and how her real life experiences have helped her convincingly play the strong, yet flawed, Pearson family matriarch.
On her reputation as "America's sweetheart":
"I think those particular descriptors prevented me from finding momentum, workwise, because people saw me in one light. There's more to who I am."
On her marriage to Ryan Adams:
"I couldn't control what happened to my immediate family, but I could control starting my own. Not the smartest decision. I didn't choose the right person."
On her divorce from Ryan Adams:
"I don't feel guilty for it. I don't fault myself for it. When people said, 'I'm sorry,' I was like, 'No. Sorry would have been had I stayed in a very unhealthy situation.' I didn't. I found my way out. And when I did, things opened back up again."
On her role on This is Us:
"I've never been a part of something that means so much to the outside world. It means just as much to all of us."
"This Is Us has allowed me to show people that I'm not perpetually stuck in the realm of teen romantic comedies. I'm a woman now. I've been married and divorced. I've had ups and downs, professionally and personally."
On her post-This is Us goals, including writing, directing and producing:
"I'm not going to take advantage of the doors that have been opened because of This Is Us to shape the stories that I want to see, then what's the point? After years of not being able to find things that I felt challenged by, it's really cool to potentially be in a position to find material and help create it."
[From Glamour]
While fans may have appreciated Mandy's honesty about her first marriage, one person who decidedly didn't was Mandy's ex, Ryan Adams. The 43-year-old singer responded to Mandy's comments via Twitter, as adults do.
She didn't like the Melvins or BladeRunner. Doomed from the start… If only I could remember the start lol https://t.co/wbMqzJFRAp
— Ryan Adams (@TheRyanAdams) October 10, 2018
Way to prove you were the wrong person, Ryan. Of her current fiancé, Dawes lead singer Taylor Goldsmith, she told Glamour that, "He makes me melt. I can imagine no better partner." She went on to say that, "I view the past as a stepping-stone to get me where I am today. I would …read more
Source:: Cele|bitchy
(Visited 3 times, 1 visits today)
Mandy Moore to people sorry for her divorce: sorry would have been staying